Londoners moving out of the capital in search of more affordable homes need to factor in commuting costs, which often involve more than a (costly) rail ticket.
A new online tool instantly calculates the financial hit associated with moving out but continuing to work in London. 
The Commute-O-Meter (compiled by JustPark) maps the price of rail season tickets and car parking costs annually at over 90 different commuter stations from Aldershot to Wokingham.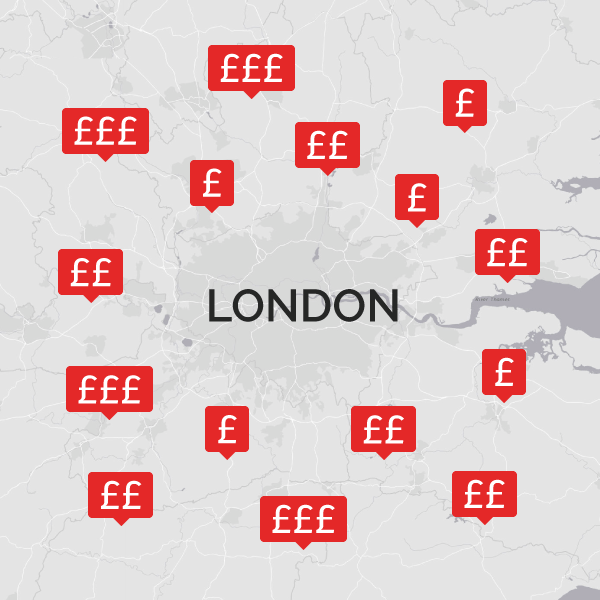 Click image to open interactive version (via JustPark).
It reveals that London commuters can expect to pay an average of more than £4,000 per year for their journey, which includes just over £3,000 on rail fare and nearly £1,000 on parking.
But it also highlights areas where that average spend can be halved - such as in Ewell West, Surrey which offers one of the cheapest 12 month rail tickets to London, at just £1,800 per year.
Part of the saving comes from the fact that the affluent Surrey town is within the Oyster network, meaning commuters making five daily trips to work pay £51 per week at peak times and £31 per week at off-peak times, an annual saving of between £1,617.20 and £577.20 respectively.
Neighbouring Epsom, just one-and-half miles away from Ewell, is also now on the Oyster network and an annual rail ticket costs £1,936. Journeys from both Surrey towns take approximately 40 minutes into central London by train.
The most expensive area for London workers to live in is leafy Tunbridge Wells, Kent, according to the Commute-O-Meter, where the cheapest rail season ticket costs more than £4,400 per year.
Commuter homes: property hotspots within 45 minutes of central London
Commuter homes: property hotspots within 45 minutes of central London
Commuters who drive to Reading Station, just a half an hour train journey from central London, can expect to be hit with the biggest parking costs with annual charges amounting to £1,805.50 per year. The total cost to commuters who drive to Reading is a whopping £6,033.50 per annum, making it the most expensive commuter destination over all. 
But Reading-dwellers can soon expect slashed journey times and upgrades to stations with the arrival of Crossrail's west-east London route in 2018.
Frimley in Surrey costs just £175 for parking per year (rail season ticket costs £3,604, so combined total is £3,779) making it the most affordable destination for drivers. The next cheapest is Caterham which costs £562 annually for parking.
Follow us on Twitter @HomesProperty, Facebook and Instagram
Reuse content